Designed for use in a salt water environment, Jet Thruster thru-hull parts are now available in high strength Composite. Over the years, use of composite material in boat building has increased to a spectacular level. Composite replacements for traditionally machined or cast metal parts is a natural evolution given the proliferation of FRP and other more exotic composite hull materials. A quick look around a boat show will reveal most boat builders have changed from metal thru-hulls to composite equivalents. The reason is obvious: significant durablity, light weight. easy install, and 100% corrosion resistance.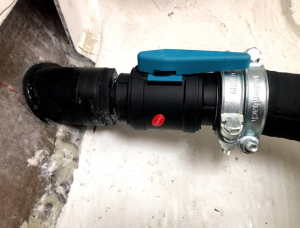 In order to comply with ISO-9093 and ABYC regulation, Holland Marine Parts, the manufacturer of the Jet Thruster brand of bow thruster systems, comes forward with a full composite product line of Nozzles, water inlets and a variety of other parts to install Jet Thruster for boats from 25-60 feet.
Composite Thru-hull parts offer peace of mind for the boat owner. Salt water has no effects, the parts will last as long as the hull of the boat, and Anti-Fouling can be painted directly over the parts. During the injection moulding process, UV proof Composite material is reinforced with a certain amount of glass filament. The result is an ultra strong, shock and impact resistant material. All though materials used in composite pipe fittings are substantially more resiliant than the Polyster or Vinylester typically used in fiberglass hulls, the principle is the same.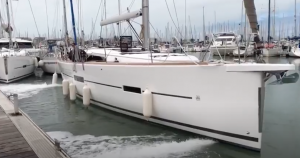 Jet Thruster systems are designed for the heavy use often seen in the Charter Boat industry, where reliability is a top consideration. Due to the continuous use of charter boats, there is demand for technical equipment with minimum service intervals. With no moving parts in the water, the Jet Thruster system needs very little maintenance to begin with. Addition of composite thru-hulls and hose fittings to the Jet Thruster installation makes the entire system vitrtually maintenance free!
Over the past few years, we have seen a strong increase in demand from Charter Companies all over the world. Renting sailing yachts is more popular than ever, and the unique attributes of the Jet Thruster system make for an ideal "charter proof" bow/stern thruster alternative.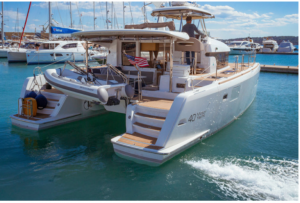 With Jet Thruster, boat builders, Charter fleet operators, and private boat owners will enjoy a thruster system designed for demanding use. The innovative Jet Thruster systems can be installed to any boat type. Are you interested to install a bow or stern thruster in your boat? Look no further than Jet Thruster!
Pieter Cats, Jet Thruster