Designed for use in a Salt water environments, Jet Thruster thru-hull parts are available in high strength Composite. Over the years, use of composite material in the boat building industry has increased to aspectacular level. Where in the past the industry installed metal thru-hull, the composite parts are a improvement. A quick look during a boat show, will show to you many boat builders have changed from metal thru-hull parts into composite equivalents. The reason is obvious: Durable, easy to install and 100% corrosion resistant.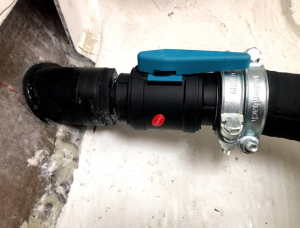 In order to comply with the ISO-9093 and ABYC regulation Holland Marine Parts, manufacturer of Jet Thruster, comes forward with a full composite product line of Jet Nozzles, water inlets and a variety of other parts to connect the very flexible to install Jet Thruster for boats from 25-60 feet.
Composite Thru-hull parts offer peace om mind for the boat owner. After a correct installation, salt water has no effect on the parts. Anti-Fouling can be painted directly over the parts. During the injection moulding process, UV proof Composite material is reinforced with a certain amount of glas filament. The result is an ultra strong, shock and impact resistant material. The car industry already discovered composites many years ago.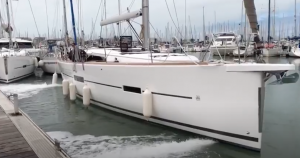 Jet Thruster systems are designed for the heavy use often seen in Charter Boat industry. Reliability is a very import topic. Due to the continuous use of the charter boats, and short service time, available between changing of the guest, there is a demand for technical equipment with a minimum service-level. With no moving parts in the water, no mooring-lines can be caught by the thruster. Mooring lines floating in the Charter base marina's are the no. 1 reason, traditional propellor bow thruster will fail. No with Jet Thruster. Lines are not able to enter the pump unit.
During the past years we have seen a strong increase of Charter Companies all over the world. Renting sailing yachts is more popular than ever. During their vacation, Jet Thruster offers captains of Charter boats to safely and comfortable dock the boat, knowing no external debris, lines, or plastics, floating in the water can harm the Jet Thruster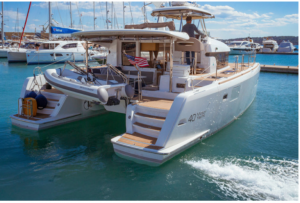 With a Jet Thruster, boat builders, Charter fleet operators and private boat owners will install a unique thruster system designed for demanding use. The innovative Jet Thruster systems, can be installed to any boat type. Are you interested to install a Thruster to your boat? A Jet Thruster has many benefits and brings great manoeuvrability to your yacht!
Pieter Cats, Jet Thruster